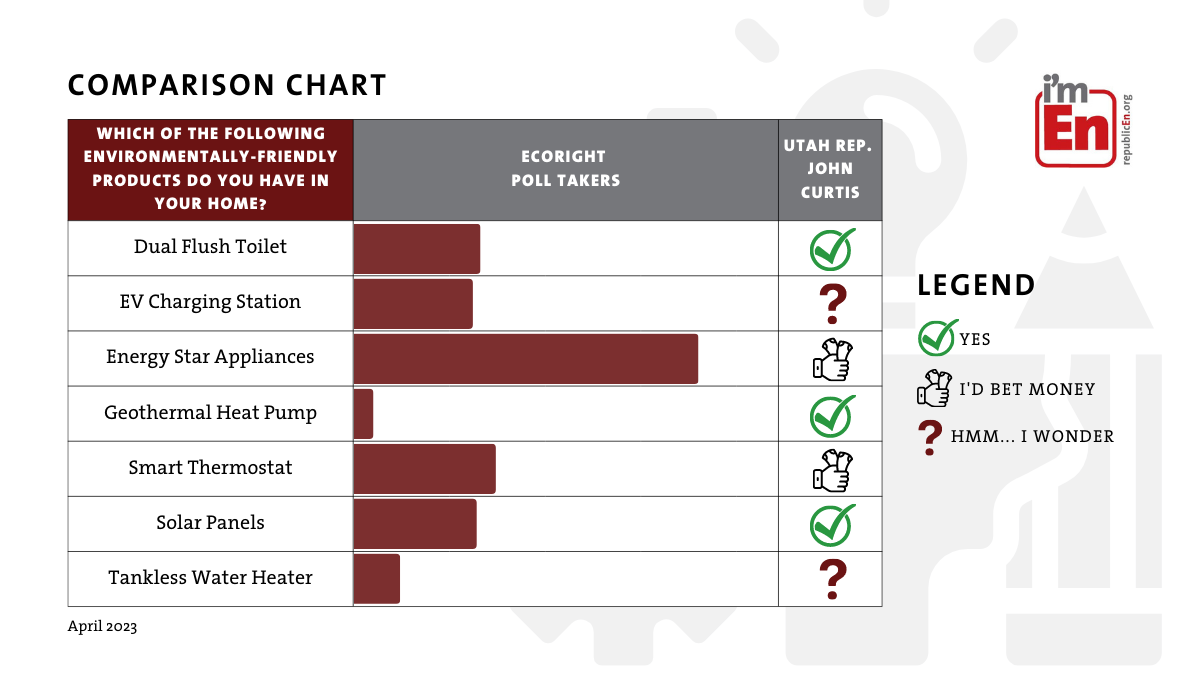 Anna Robertson from
The Cool Down
did an exclusive house tour with Republican Congressman John Curtis of Utah, who built a climate-friendly house, saving him thousands of dollars a year. Read the article
here
. We compared John Curtis' home features with the environmentally friendly home products we included in April's poll. And to be clear, John Curtis
is
part of the EcoRight. In fact, we applaud his climate leadership.
Every month, republicEn asks 3 Questions for the EcoRight to learn more about our community.
Two of our recently featured webinar guests, Beth Silvers from the podcast Pantsuit Politics and Todd Myers, author of the book Time to Think Small: How Nimble Environmental Technologies Can Solve the Planet's Biggest Problems, claim they are early adopters of technology and that this shared trait drives them to adopt the newest clean energy tech for themselves. That makes sense, right?
This got us wondering: Where does the rest of the EcoRight community stand when embracing technology? It turns out 0% of poll respondents across 36 states describe themselves as "one of the first people to have a new tech gadget." Holy cow! What is going on here?! Does this surprise anybody else? Are Beth and Todd EcoRight unicorns?
This is what I'm hearing after reading poll takers' comments: Many people don't consider clean energy tech new technology. Others are similar to me – we use things until they die a long, brutal death. I had my last cell phone for six years and my car for 13 years! The cost of new tech can be prohibitive, even though we'd love to have that new EV. Also, some people live in apartments and don't necessarily have control over tech in their home.
Here are the survey results: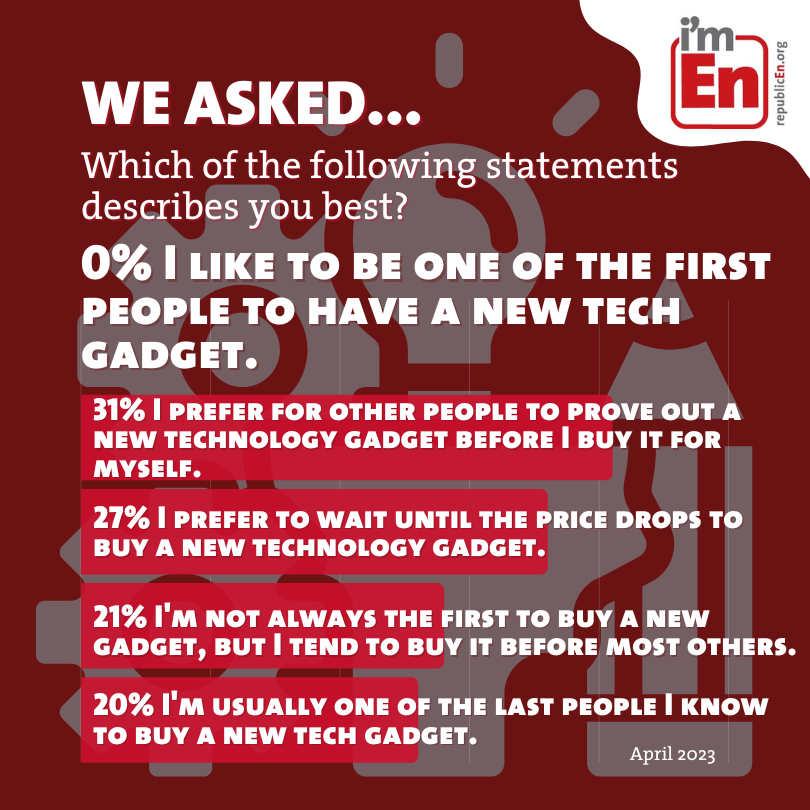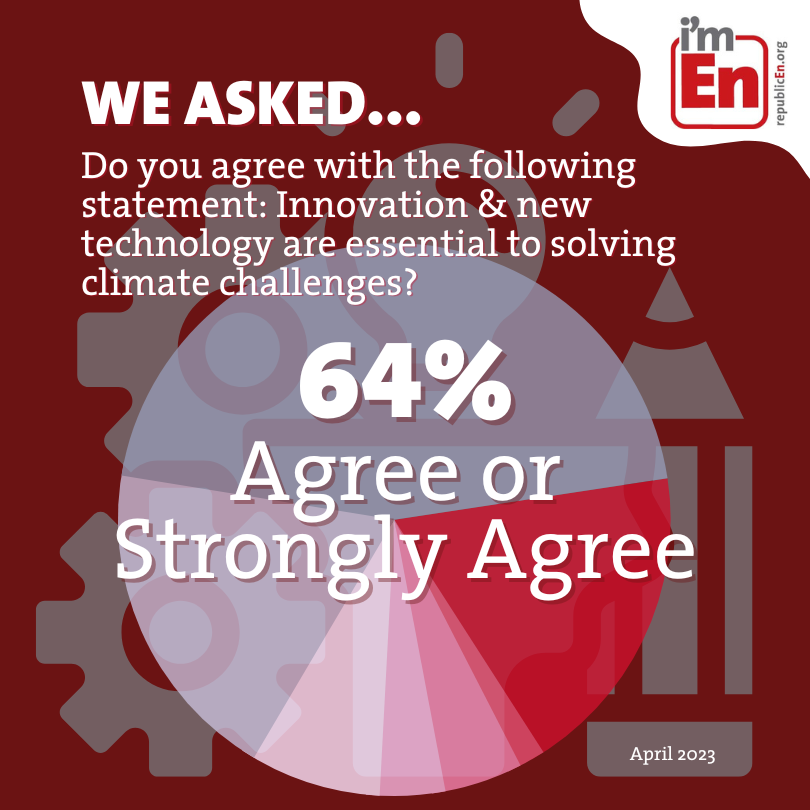 Poll answers represent republicEn members across 36 states, plus the country of Ecuador. Californians came in strong, answering the most polls, followed by Texans and Floridians. The political leaning of poll takers: 48% lean Right, 36% claim Center, 14% lean Left, and 2% are unsure or prefer not to say.
Here are shared thoughts and opinions from our members on the subject:
"We will need to innovate to fully address climate challenges. However, technology isn't a magic wand that we simply must wait around for someone to wave, and innovative and effective climate tech solutions will never reach the market if there is no demand for them. We must use available technologies (ex. nuclear energy) and remediative approaches (ex. planting trees and protecting effective carbon sinks like peat bogs and kelp forests) to draw down current CO2 levels all while we create market incentives that broaden the demand for effective climate tech. " – Beth C. in North Carolina
"I invented a waste vegetable oil refinery / retail station that can enrich mostly (circumstantially) Republican owned snack factories, stadiums, and farms with programmatic profit splits while saving drivers of plant oil modified diesel vehicles in fuel costs and dramatically reducing emissions. So, strong believer in technology to address climate change." – Michael C. in Massachusetts
"I love this organization and its focus. Having said that, the ECORIGHT fails in the most critical issue, which is the standardization of CO2. We need accounting programs that are as robust as the FASB, reproducible, no black box.. cradle to grave would be the end goal. Beyond that, the ECORIGHT needs to focus not only on technology but efficiencies and programs that have essential, if longer paybacks. 95% of carbon credits are bogus. Few expire. It is still a mess of various qualities, durations, and registries. SIMPLIFY!" – Charlie N. in Texas
"While innovation is essential, there is so much we can do without it. Adding more home insulation is not 'innovation.' Driving smarter is not innovation, nor is riding a bicycle, or even an e-bike. There are plenty of basic investments and changes in behavior we can be doing." – Rich F. in Michigan
"We need to let folks know that we can get started now with the amazing innovations and technology we have today. Don't wait or walk – now is the time to run to our clean energy future." – Robin P. in Montana
"Home energy upgrades not on list #2 (many of these aren't well known but should be) – Christopher F. in Virginia
1. Heat Pump Hot Water Heater (4x more efficient than tankless)
2. Energy Recovery Ventilator
3. Heat Pump Clothes Dryer (3x more efficient than electric or gas)
4. Cold Climate Heat Pump (requires no backup heater)"
"We are net zero in our passive solar home, where our solar production is actually a little more than we use in the home AND our plug-in cars. You left off heat pump water heaters, which are amazing energy savers." – David H. in Tennessee
"Please keep doing what you do. We need to get the climate out of partisan politics. The more we love the outdoors, the more we need to do to protect it. Many of the future solutions will come from the Private sector, the government doesn't have a monopoly on good ideas." – Robert T. in Florida
"Pricing carbon remains the cheapest and fastest policy means to drive toward the needed end. We just need to be rational, remind ourselves that competitive markets work, and recognize that the current price for carbon or other pollutant emissions of $0 is an accidental market feature ' not one chosen for beneficial purposes. Let's make the change that lifts all boats, aligns all decisions, and encourages the simplest, most intricate, most obscure, and most obvious in hindsight changes in one fell swoop, price emissions." – Matthew W. in Texas
Still feeling tech curious? Former webinar guest Beth Silvers (mentioned up top) released a podcast episode reflecting on her family's past year as solar energy users this week. I liked this particular episode because it discusses the financial incentives of solar, plus the advantages of being independent of the grid. Please give it a listen!