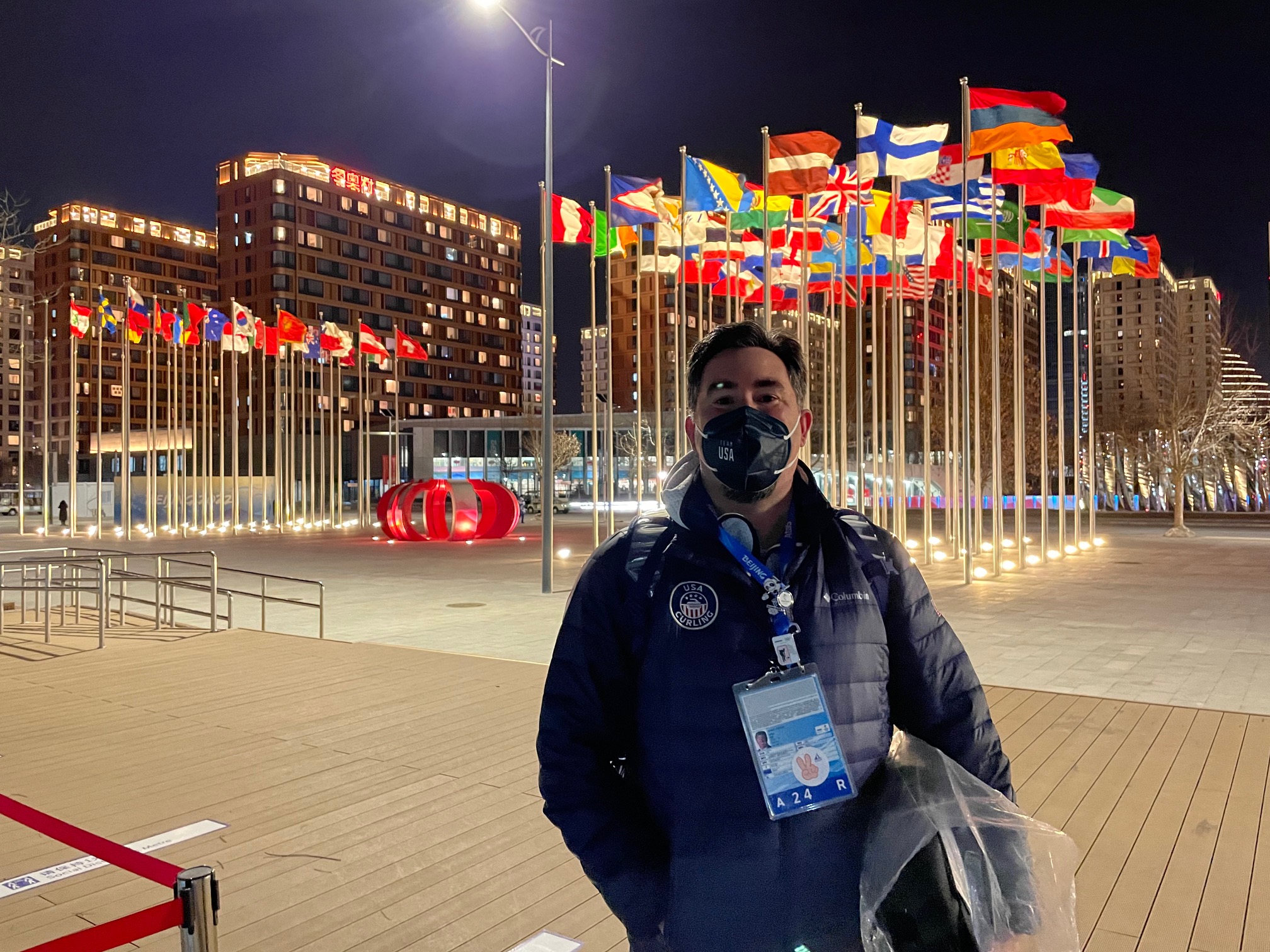 BEIJING – Wow, what a whirlwind it's been here working at the 2022 Winter Olympics in Beijing. I'm so honored to be here with the U.S. Curling Team having the experience of a lifetime—and there are energy and environmental undertones everywhere.  
The official slogan of the 2022 Winter Olympics is "Together for a shared future." And every time I see it in writing, I can't help but think of our future together co-existing on this planet we call home.
The first thing I noticed upon arrival was the lack of smog, which most of us had prepared for. Since arriving on January 28th, we've only had two smoggy days. Every other day has been sunny and beautiful (and bitterly cold as of late).
Evidently, power plants were shut down in the western part of the country weeks ago. As a result, we've seen far less smog and the weather has been quite pleasant. Friends who were here last fall for the World Wheelchair Championships suffered from very poor air quality.
The buses we ride from the hotel to the Olympic Village and then to the venues are almost all electric-powered buses. The slogan "EV" is plastered across the back portion of the buses. And you can immediately tell and confirm they're electric as soon as you sit down onboard.
One day last week I was walking around the Olympic Village, while waiting on my bus back to the hotel. Doing a quick lap near the dining hall, I walked up a small hill to surprisingly find a bank of solar panels on top of the large underground building housing the gift shop, post office, beauty salon, Pizza Hut & KFC along with several other stores.
And another thing that is everywhere I've been here is recycling containers. Whether inside the dining hall, coupled with a trash bin or a separate container in my hotel room, recycling bins are all over the place inside the Olympic "bubble."
Who knows? We could be bubble proof where things, in reality, aren't as they seem on the outside. But we aren't able to leave the bubble to find out.
One other point, striking up random conversations with members of Team USA coaches, athletes and support staff on the buses, I've asked many of those who reside in the Utah, Colorado and popular winter sports training areas what climate change has done to affect them. And almost everyone I've talked to has emphatically indicated they're experiencing climate impacts firsthand.
It's been an incredible two weeks here so far…but I'm ready to come home. And get back to my republicEn team!