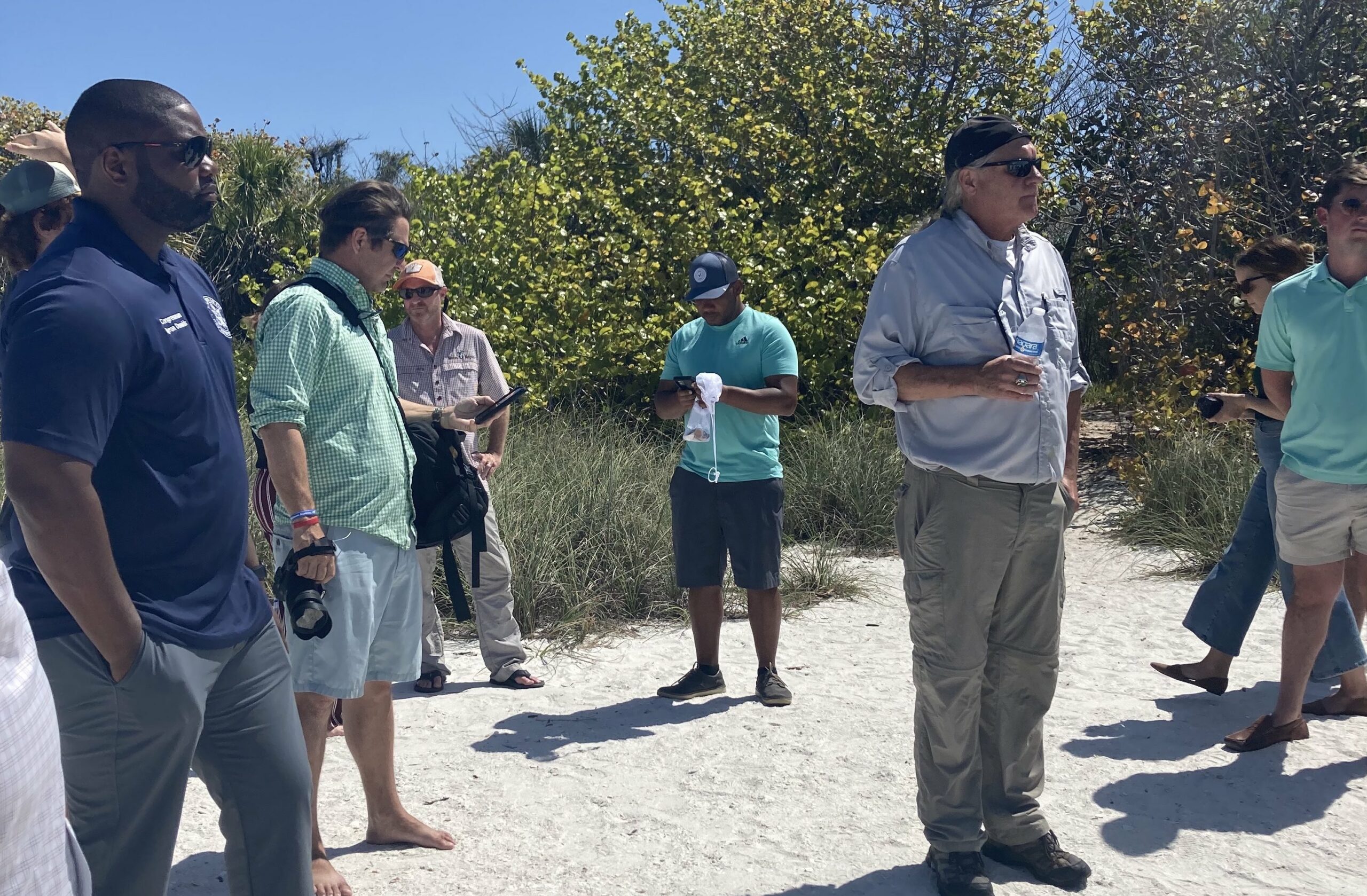 NAPLES, Fla. – U.S. Rep. Byron Donalds (R-FL-19) came on the Pure Florida fishing boat on Wednesday morning, April 20th aware of sea level rise, aware of the water quality issues and also interested in talking about policy solutions.
As we motored down Rookery Bay toward the Gulf of Mexico, Dr. Brandon Shuler with the American Water Security Project told us more about the water quality issues. Dr. Randall Parkinson, Associate Professor at Florida International University's Institute of Environment, who specializes in the effects of climate change and urbanization on the built and natural environment, told us that sea level has risen four inches in Naples in the last 10 years. During the previous 100 years, sea level had risen one inch. For a city that sits three feet above sea level, inches matter – especially when the water is rising at warp speed in geological terms.
As we got to Keewaydin Island, Shuler and Parkinson connected the dots between sea-level rise and water quality. Many structures rely on septic tanks, and sewer systems are bound to have leaks. As high tides rise to inundate septic tanks, drain fields and the occasional sewer line break, fecal matter ends up in the waterways.
At that point, the conversation on board recalled an earlier field trip with U.S. Rep. Maria Salazar (R-FL-27) in which she summarized the situation as, "What happens on the land ends up in the Bay."
That summation might be expanded to: "What we put in the air brings water up on the land and flushes fecal matter into the Bay." Given that reality, it was encouraging that Rep. Donalds was so interested in talking about policy solutions.
Thank you to Congressman Donalds' staff members Chris Ploch and Madeline Dawson for securing the time to make the trip possible. We're grateful to our partners: Zaurie Zimmerman, who made the business case for action as a business owner and as a winter resident of Naples; Logan Luse, the Florida State Director for the American Conservation Coalition on the need to engage young conservatives on the issue; Dr. Parkinson and Dr. Shuler for their leadership; and Robin Rosario with Pure Florida for hosting the trip and providing the refreshments. And finally, a special thank you to our sponsoring partner American Water Security Project.