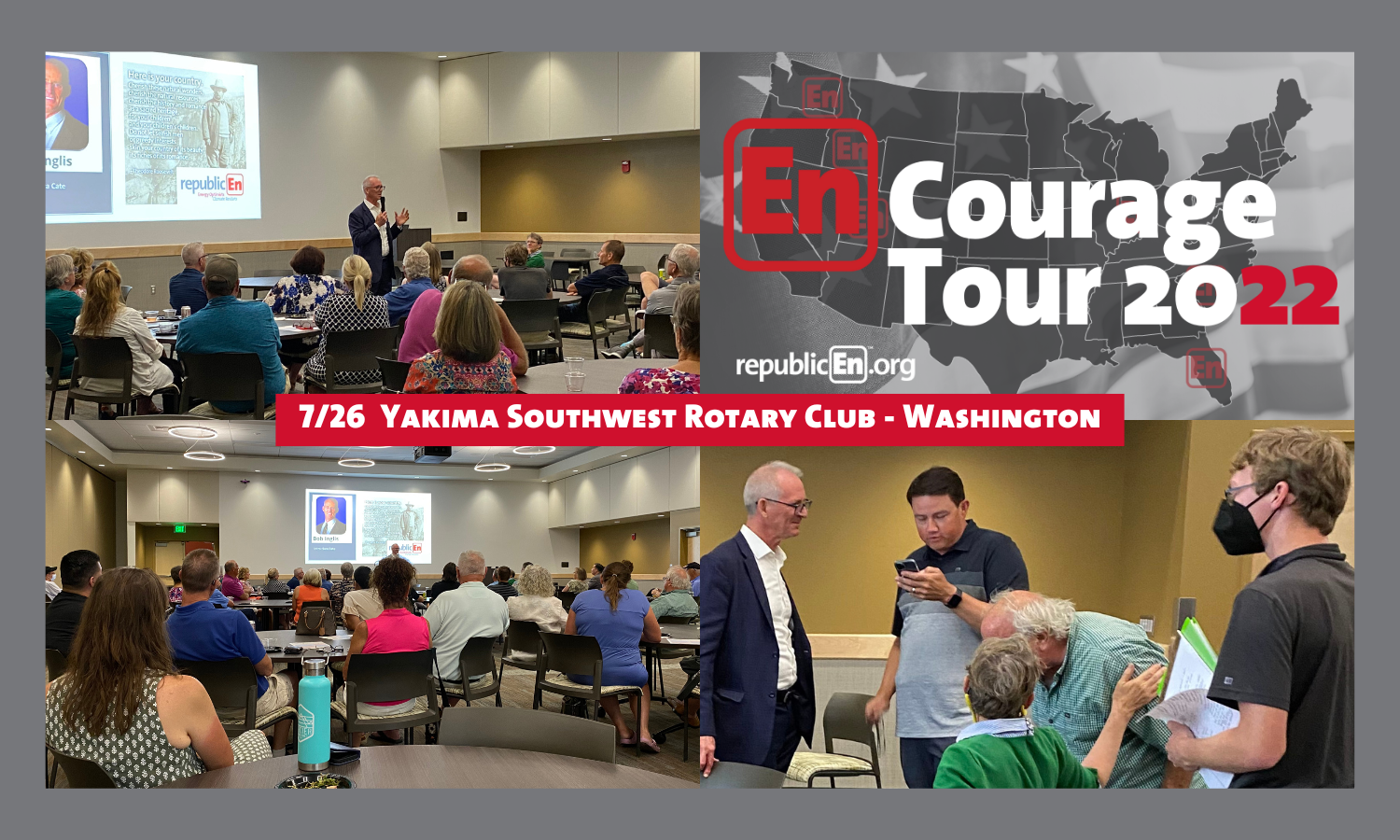 With significant republicEn.org social media running in the 5th Congressional District in Washington and in Idaho, we poured it on with on-the-ground events.
In eastern Washington I learned from time with the tree fruit association, spoke to a Rotary Club that had gathered members from three additional Rotary Clubs, enjoyed a dinner with a large group of friends from the Citizens Climate Lobby, and had a 20-minute interview with a conservative talk radio show that featured a dueling interview with the Oregon Highway Patrol. Let me explain.
The plan had been for me to check out of the motel, sit in the rental car in the motel parking lot where cell phone signal was more certain, and then beat it to Boise for a noon Rotary Club speech. There was no time to spare, and the producer's declaration of a 5-minute wait for the interview to start sent me onto I-84. But when I realized that I was likely to lose signal in the mountains ahead, I pulled over into the wide emergency lane—just underneath a sign that read "No parking except for snow chain installation." Blue lights. Officer at my window. I muted the show. "No, sir, not broken down; just doing a radio show." He laughed and walked back to his car just as the talk show host was finally putting a question mark at the end of his very long comment. I unmuted and answered. Bet you can't find the mute/unmute moment in the recording!
In Idaho there was a group discussion in a Catholic center, a home dessert with church friends of friends formerly from South Carolina, two Rotary Club talks and three front-page stories in local papers. One of those print reporters did a particularly fine job of capturing our work when he finished his piece with this:
"I realize some of that is really optimistic about the ability to communicate with people," Inglis said. "That is one of the downfalls of our approach: It assumes there's a well-informed populace who can hear the full presentation. That's our challenge, how to communicate this. It's hard to reduce to a bumper sticker."
But when leaders are optimistic, he said, "they're saying they believe in the people they represent."
Bob Inglis believes in the American people. His mission is to get them to believe in themselves.